Director
---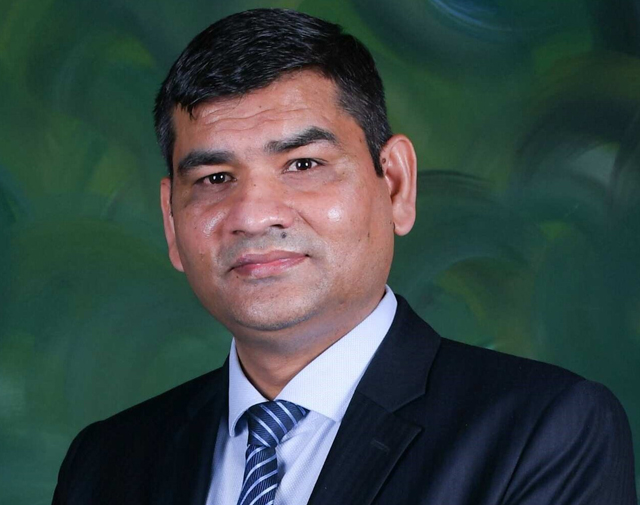 Dr. Ashutosh Tiwari, the Director of the Institute of Advanced Materials, IAAM, is a distinguished scientist and technocrat entrepreneur. He has been dedicated to working actively in the field of Materials Research, Translational Innovation, and Sustainability for cutting-edge knowhows. Ashutosh is a keen believer in the power of innovation and technology and has the vision of enhancing its availability in transdisciplinary fields. He works genuinely for the advancement of Green and Sustainable practices, in line with the recommendations of United Nations for 2030.
Having started from a humble background, Dr. Tiwari has made his way towards the leading in interdisciplinary science and technology. Under his leadership, Institute of Advanced Materials has grown leaps and bounds and now provides R&D services, education and consultancy to clients across academia and industries.
In his headship, Institute of Advanced Materials, IAAM offers a truly comprehensive learning programs for students, researchers, policymakers, entrepreneurs, and professionals from academia and industry to promote multi-inter-trans-disciplinary research, innovation, and technology in the advancement of materials. The institute develops innovative solutions for diverse issues like Energy, Environment, and Healthcare.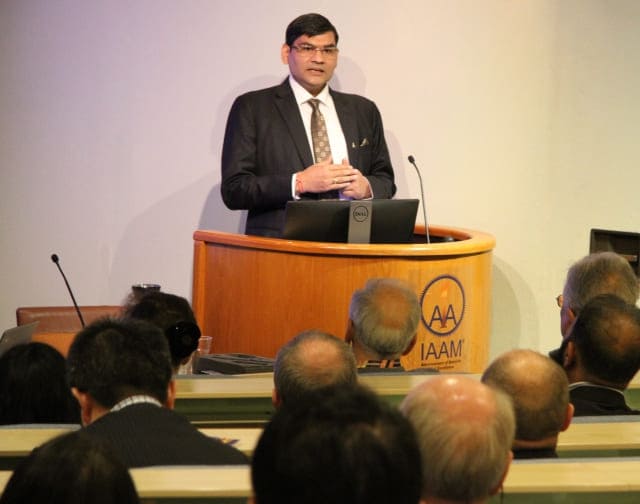 Ashutosh Tiwari is the Founder Member and the Secretary-General of the non-profit organization, International Association of Advanced Materials (IAAM). IAAM works with the motto of 'Advancement of Materials to Global Excellence' and provides global research and education forum for the development of the highly expanding fields of advanced materials science, engineering, and technology.
Prof. Ashutosh Tiwari serves as Editor-in-Chief of Advanced Materials Letters, an official Diamond Open Access (DOA, no charge for publication and free for reading) international journal of International Association of Advanced Materials, which publishes peer-reviewed high-quality research and reviews articles pertaining to Materials Science and technology on a regular basis.
Dr. Tiwari's major contributions lie in the field of innovative sustainability for new-age materials and nanotechnology. He has been actively involved in the development of new materials, high-throughput innovation, and translational development that can be used in numerous segments and markets. His work on social innovation sustainability has also been focused on distributed businesses nurtured by the countryside start-ups cluster.
Dr. Tiwari's one of his area of interest is to translate and cultivate the sustainable methods, cutting-age innovation, new products, and field trials that can transform sectors such as energy, environment, and mass medicine using Cloud and AI-based technology. Dr. Ashutosh Tiwari has been actively involved in the product development and field trials for example zero-distance hospitals having advanced facilities like AI-based cloud medicine, parallel consultancy, etc.
Academic accomplishments
Dr. Ashutosh Tiwari is affiliated as a high-end professor, evaluator, and expert with several organisations. He has taken a number of adjunct and honorary professor titles since 2009. Just after completed his doctorate degree from University of Allahabad, he joined as young scientist at National Physical Laboratory, India. Later, he moved to University of Wisconsin, USA for postdoctoral research.
Prof. Ashutosh Tiwari is the recipient of many prestigious fellowships including Marie Curie, The European Commission; The Japan Society for the Promotion of Science (JSPS) Regular and Bridge Fellows, National Institute for Materials Science (NIMS) Postdoctoral Fellow, Japan; SI, INSA, CSIR, etc. Likewise, he is the recipient of various recognitions and awards for his notable contributions to the fields of advanced materials, nanoscience, and nanotechnology.
Prof. Tiwari has published about 500 articles and has edited/ authored around 50 books on advanced materials, nanotechnology, translational research, and innovation. He is the Guest Editor of the Special issues of leading international journals,
1) 2D Materials in Biosensors & Bioelectronics, Biosensors & Bioelectronics (a principal journal in this field, Impact factor about 10.5 in 2019), Elsevier.
2) Microbial and Enzymatic Biosensors and
3) Smart Materials for Switchable Sensors in the Sensors, MDPI (Leading open access journal, IF 3.275 in 2019).
Dr. Ashutosh has also served as Series Editor for Books on the Advanced Materials and Advanced Nanomaterials. Some of his books has proved to be highly popular and successful include: Intelligent Nanomaterials, Biosensors Nanotechnology, Graphene Bioelectronics, Advanced Theranostic Materials, Graphene Materials, Responsive Materials and Methods, Advanced 2D Materials, etc.
Prof. Tiwari serves as scientific evaluator, an expert on several panels and committees to various governmental and non-governmental agencies; member of PhD committee, and have been invited for plenary, keynote, and invited lectures in over 25 countries.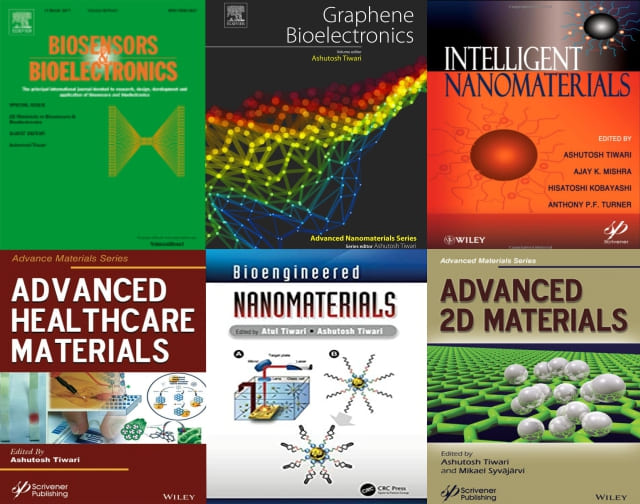 Books available online at
Research, Innovation and Product Developments
Healthcare Management and Technology
Dr. Tiwari and his team work to implement digital technology into the equipment and methods employed in the healthcare sector. By amalgamating technologies like Artificial Intelligence, IoT, and Machine Learning, they have developed a virtual healthcare technology named mHospitals that brings the healthcare services at home. The technology targets to serve 100 million people in the coming decade. The platform has gone through an extensive range of field trials and the results have been successful. So far, mHospitals has provided second opinion to patients and follow up after performing cardiac surgeries. mHospitals also offers cloud care for prevention of Coronavirus. The COVID-19 Virtual Test KitTM assists in identifying the 'Disease Hotspots and Tracking'.
This digital health product serves as a one-stop virtual solution for all cardiovascular issues. By having developed this technology, Dr. Tiwari has attempted to provide the patients online access to doctors without any travel. The state-of-the-art "Live Healthcare" platform works on data-driven technology on key healthcare parameters within specific areas of new age technology, including AI, IoT, Cloud computing and Data analytics in public health management. The mHospitals, which will be made available on web and mobile devices, will make it possible for patients to get in touch with doctors just in a click.
Programmable Nanotechnology
Dr. Tiwari has made a range of innovations in the field of integrated functional nanotechnology applicable for programmable medicine and smart strategies for point-of-care devices. The molecular-encoded nanotechnology regulates material's surfaces and properties for programming them into desired configurations of applications. Designing and development of nano-bio- interfaces for switchable responses. Dr. Tiwari is involved in the such developments and has also taught courses on the intelligent materials, nanomaterials, and atom-thick materials for biomedical, biosensing, and energy devices.
Dynamic Bioelectronics
Dr. Tiwari and his team have also demonstrated an on-off switchable atom-thin zipper-like bioelectrocatalysis using triggered functions. Dynamic bio-interfaces show a responsive behaviour with ability to adapt environmental changes. Dr. Tiwari reported the fabrication of temperature, light, pH-induced graphene bioelectronics for sequential and/or controlled enzymatic reactions. The field of Dynamic Bioelectronics have gained a lot of research attraction in the recent years and new developments have been published in the literature.
Theranostic Nanomedicine and Biomedicals
Biomedicals is another field that Dr. Ashutosh Tiwari has made significant contributions to. He has reported a high turnover, on/off switchable functionally popping reactive oxygen species (ROS) generator using a smart mesoporous titanium dioxide popcorn nanoarchitecture. Nanomedicine formulations also employed for targeted therapeutic interventions having role in personalized medicine while, theranostic tools imparting better prognosis models for disease. The contributions that Dr. Tiwari has made to the field of smart theranostic nanomedicine and tissue engineering are widely renowned.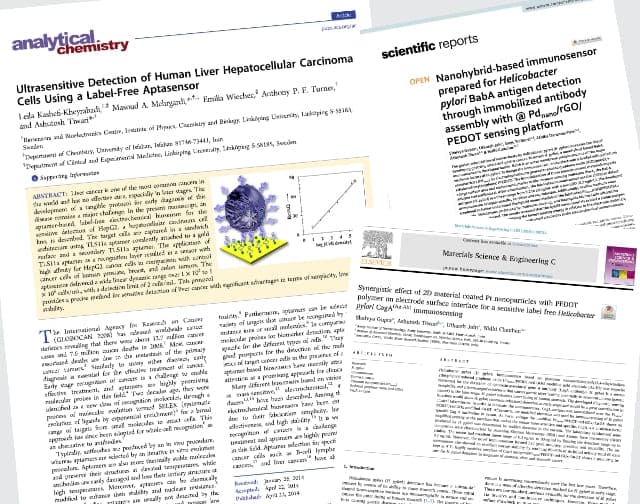 Bio-sensing and point-of-care Devices
Dr. Tiwari has made a considerable contribution to the area of Bio-Sensing and point-of-care Devices as well. His extensive fabrication of sensitive, cost-effective, and efficient sensing/biosensing devices for disease monitoring and detection has been nothing short of life saving. His contributions include patents related to technology and methods that can help in the early detection of cancer and myocardial injury. Currently AI-enabled biosensing systems are the need of the hour for intelligent healthcare models. The volume of point-of-care testing is increasing day by day along with new emerging diseases and infections. The need to improve the healthcare management, especially in resource-limited settings, requires role of advanced technologies (AI, IoT and Cloud databases) in successful devices. Dr. Tiwari has made technological advances for health, programmable medicine, and intelligent-security tools, with the help of artificial intelligence and smart strategies.
Super-Thin Power Electronics
Dr. Tiwari has also contributed to the area of super-thin power electronics using atom thin nanomaterials. He and his team provide consultancy and technology for various industry-based products for electrical, energy, thermal, computing, data storage, etc. He has worked to solve the challenges of the industry and market to provide technology for design and development of integrated super-thin circuits with high performance. In the last decade, the field of super-thin power electronics has expanded a lot due to the development of atom-thick materials and nanoscale technology.
Environmental Sustainability and Water Nanotechnology
The innovative solutions in sustainable materials, combating climate change, organic know-hows, etc. for creating natural comes through advanced materials and technology. Dr. Tiwari has been involved in advanced research on water nanotechnology, air quality detection, and aqueous sensors for purification and monitoring systems. This work of theirs provides solutions to different kinds of air quality and water impurities. Dr. Tiwari believes that the environmental monitoring and water quality assurance is one of the major responsibilities for hi-tech giants. Since Engineered Nanomaterials are considered the best initiative to ensure air quality, water nanotechnology and microbial toxic responses is looked at as a means to provide ecological quality management for green-monitoring systems.
Materials Nanotechnology and Intelligent Fabrications
The wearable and implantable devices have been fabricated and evaluated based on properties of nanostructured materials in many diverse fields such as sensors, energy, and biomedicine, etc. Dr. Tiwari has also made a significant contribution to the field of nanoenergy conversion and storage. He, along with his team, has successfully fabricated highly efficient supercapacitors, fuel cells, and battery technologies. The design and fabrication of biocompatible surface through nanostructured materials and scaffolds is his current interest.
Green Materials Methods, Properties, and Applications
The ecological materials research has been committed to reformation technologies in lightweight and sustainable means. Dr. Tiwari for the first time engaged to develop green materials processing routes for the industrially important. Dr. Ashutosh Tiwari have been able to achieve successfully grafting of polymeric building blocks with variety of biomaterials from renewable natural resources having favorable industrial properties and performance in comparison to other traditional industrial synthetic materials.
Dr. Tiwari's books are available online at